Dear Friend,


I am pleased to report that it's been a very productive month in the Senate. We passed a bill to improve our aviation laws, and approved another bill to update our energy policies for the first time in eight years.
It was a pleasure to see so many Nebraskans in our nation's capital this month. Recently, we welcomed the Husker volleyball and bowling teams to Capitol Hill for a special reception honoring their outstanding seasons. Go Big Red! Check out some highlights of the Huskers' visit.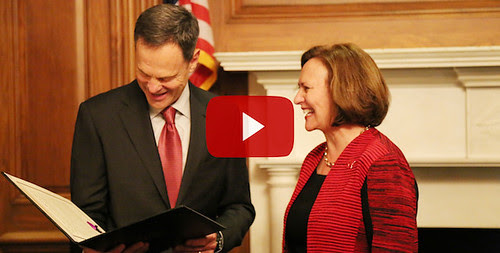 This week, I'm on the road in Nebraska. On Monday, I hosted a field hearing on rural transportation in Scottsbluff. Throughout the rest of the week, I will be on the road visiting with you at community coffee events across the state. These events will take place in North Platte, Kearney, Hastings, Geneva, and Crete. Hope to see you there! Click here for more information on my community coffees.
Please scroll down for more updates.

A Victory for Small Communities
The Senate recently passed a major bill to reauthorize the Federal Aviation Administration (FAA). This agency is tasked with the critical mission of managing the safety and security of our nation's airspace. The FAA bill included several provisions that I introduced to better serve travelers in our state and around the nation. It is a victory for Nebraska's rural and small community airports, and it would also provide greater funding certainty for airports in Omaha and Lincoln. Click on the video below to learn more about this bill and how it will help airports across Nebraska.

Honoring Fallen Nebraska Heroes
I am continuing my series of floor speeches honoring Nebraskans who gave their lives in Iraq and Afghanistan. My latest speech honored Master Sergeant Linda Tarango-Griess of Sutton, Nebraska. Sergeant Tarango-Griess was killed by an improvised explosive device in Samarra, Iraq, in 2004. She was two weeks shy of returning to Nebraska. I hope all Nebraskans remember her as an example of what it means to serve our nation with bravery, compassion, and joy. Master Sergeant Linda Tarango-Griess is a hero. She embodied the grit and determination of an American soldier, and I was honored to tell her story.

Click here or on the image above to view Senator Fischer's floor speech on Master Sergeant Linda Tarango-Griess of Sutton, Nebraska.

Providing Common-Sense Solutions
Last week, four of my bills passed the Senate Commerce Committee. These common-sense bills included S. 2607, the Developing Innovation and Growing the Internet of Things (DIGIT) Act; S. 2829, the Maritime Administration Authorization and Enhancement Act of 2017; S. 2553, Kari's Law Act; and S. 2558, The Spoofing Prevention Act of 2016.
From keeping goods moving to embracing connected technologies, we can build a better economy. By updating our emergency call capabilities and correcting loopholes in consumer protection laws, we can provide some peace of mind and prevent fraud. I'm proud of each of these bills, and hope to see them swiftly advance for a vote on the Senate floor.

Modernizing America's Energy Policy
In April, the Senate passed legislation that will update the nation's energy policies for the first time in nearly a decade. The Energy Policy Modernization Act would update America's energy policies to reflect new market realities. This will help businesses and families save money without having to raise taxes or add to the federal deficit.
This bill also included language I introduced with Senator Cory Gardner of Colorado. My provision, known as the Judgement Act, would provide hardworking taxpayers with the ability to track exactly how their tax dollars are being spent on litigation expenses.

Photos of the Month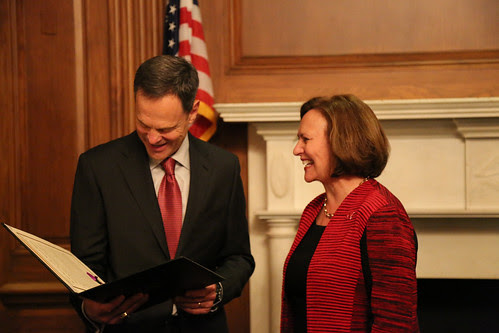 I presented Huskers volleyball coach John Cook with a Senate resolution honoring his team's amazing accomplishments. Nebraska is so proud of our national champions. #GBR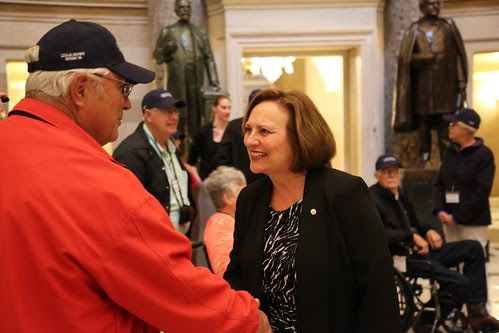 It was a privilege to welcome veterans from Dawson County, Nebraska, to the U.S. Capitol. To all of our veterans across Nebraska, thank you for your service and sacrifice.

Happy to have folks from Nebraska Extension stop by my office yesterday to promote educational activities and 4H. #TrueLeaders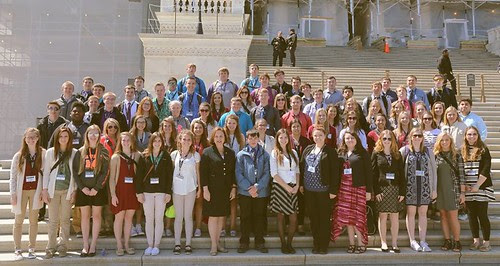 Big crowd of Nebraska students on the steps of the U.S. Capitol. These students were participating in Close Up D.C., an exciting program where young people have the opportunity to learn more about the government.

In the U.S. Capitol with Colonel Marty Reynolds, who is the commander of the 55th Wing at Offutt Air Force Base. We were joined by Command Sergeant Major Raymond Brown and Staff Sergeant Jacob Tilton to discuss the Offutt runway update and other issues facing the 55th Wing.